Terrorism in Pakistan: Suicide Blasts and Drone Attacks
December 10, 2019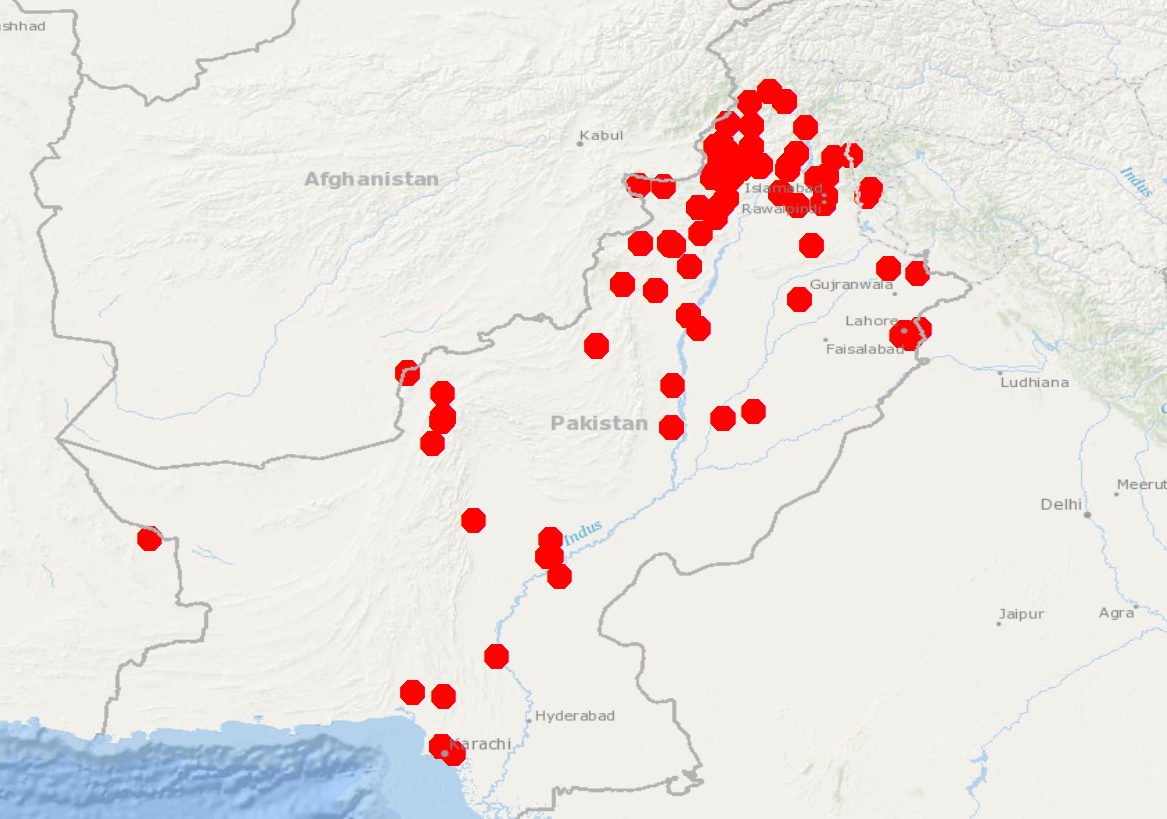 Pakistan, a developing country has been strongly targeted by a wave of terrorist attacks that peaked in 2009 and 2010, resulting in huge losses of lives and a setback to the country's image and economy. The country and its people became unsafe in their own homeland and vulnerable to the increasing nature of the attacks. Until 2016, when military held major operations across the country to rule out terrorism and succeeded to a great extent in eliminating terrorism over the years. This huge blow to our country proved to be devastating in many cities and therefore caught our interest to analyze its lasting affects across the country. For our research, we took datasets of suicide blasts and drone strikes in Pakistan from 1995 to 2017 available at Kaggle. We then looked upon the cities most affected by these attacks, the targeted events and their locations, the number of people killed and injured during the incidents.

As per our findings, the total count of suicide bombings in Pakistan from 1995-2017 was 543, which happens to be a large figure. According to the South Asian Terrorism Portal Index (SATP), terrorism in Pakistan has declined by 89% in 2017 since its peak years in 2009. Our findings too support this claim since we do see a decline in the number of blasts from 2009 to 2017. However, these attacks killed a huge number of people and left many seriously injured. Although the counts are not definitive, our analysis showed that in 2010 the highest number of people approximately 1,146 were killed, whereas the highest figure of injured was in 2019 where about 3,462 people were injured. The total number of lives lost from 1995 to 2017 counted to 7,299 and the number of people injured totaled to 18,191. These figures are devastatingly high and indicate the crucial sufferings of citizens of Pakistan, where safety, a basic necessity of life was compromised.
Sadly, these figures only depict tragedies of suicide bombings, whereas the killings caused by drone strikes are all together with a different scenario. The authorities claimed that civilian deaths from the drone strikes are minimal, however, our findings went against this claim. The strikes did not kill the intended target i.e Taliban, Al Qaeda rather a high number of civilians were killed, and even foreigners suffered in these attacks. Each year the strikes occurred, the number of civilians killed has always been more than the number of extremists killed.
 
The total number of drone strikes that were carried out in a period of 14 years from 2004 to 2017 was 405. The number was highest in 2010 with109 strikes and the lowest in 2004 with only 1 strike. Our findings further looked upon the attacks provincially. It was observed that the maximum number of drone strikes happened in FATA in 2010 and a huge number of people were killed and injured. Whereas strikes in Balochistan and KPK were comparatively minimal. On the other hand, KPK was by far the most affected by suicide blasts followed by FATA and Punjab.
When we did an analysis on the cities across Pakistan, it turned out that Peshawar had the most count of blasts in the last 23 years, also the cause of KPK experiencing the highest count of blasts. The count of blasts totaled to 60 in Peshawar, which undoubtedly proved very drastic for the city and its natives. Quetta, a relatively underdeveloped and unpopulated city among the major cities of Pakistan was also targeted by suicide bombers. While, other major cities like Lahore, Islamabad, Karachi, Bannu too had a high count of suicide blasts.
In 2010, the highest drone strikes were carried out in Waziristan, a region that is infamously known as safe haven for terrorists. The 103 strikes killed a total of 777 people and many injured in just a year only in the North Waziristan. In South Waziristan, the 13 drone strikes killed 135 people in total. This number is relatively low compared to North Waziristan, but it is still greater than the ratios of other regions i.e. Bajaur Agency, Khyber, Orakzai, and Khurram Agency etc. These strikes mainly targeted the Haqaani militant network as it was widely believed at the time that they had formed their headquarters in this tribal region.
Furthermore, we looked upon the nature and focus of the suicide attacks on the kinds of locations and intended targets. The attacks were mainly targeted at police and rangers, military and government, killing and injuring a high number of officials. A high number of blasts occurred at public spaces at instances of large gatherings like religious events, markets, parks and play grounds, creating utmost chaos and fear among the citizens. When we looked upon the pattern of their occurrence, we found out that most blasts i.e 348 were planted on the working days targeting the authorities and officials. 64 blasts happened on local, religious holidays where a huge number of civilians were targeted at the holiday festivals and gathering, while barely any blasts took place on the weekends.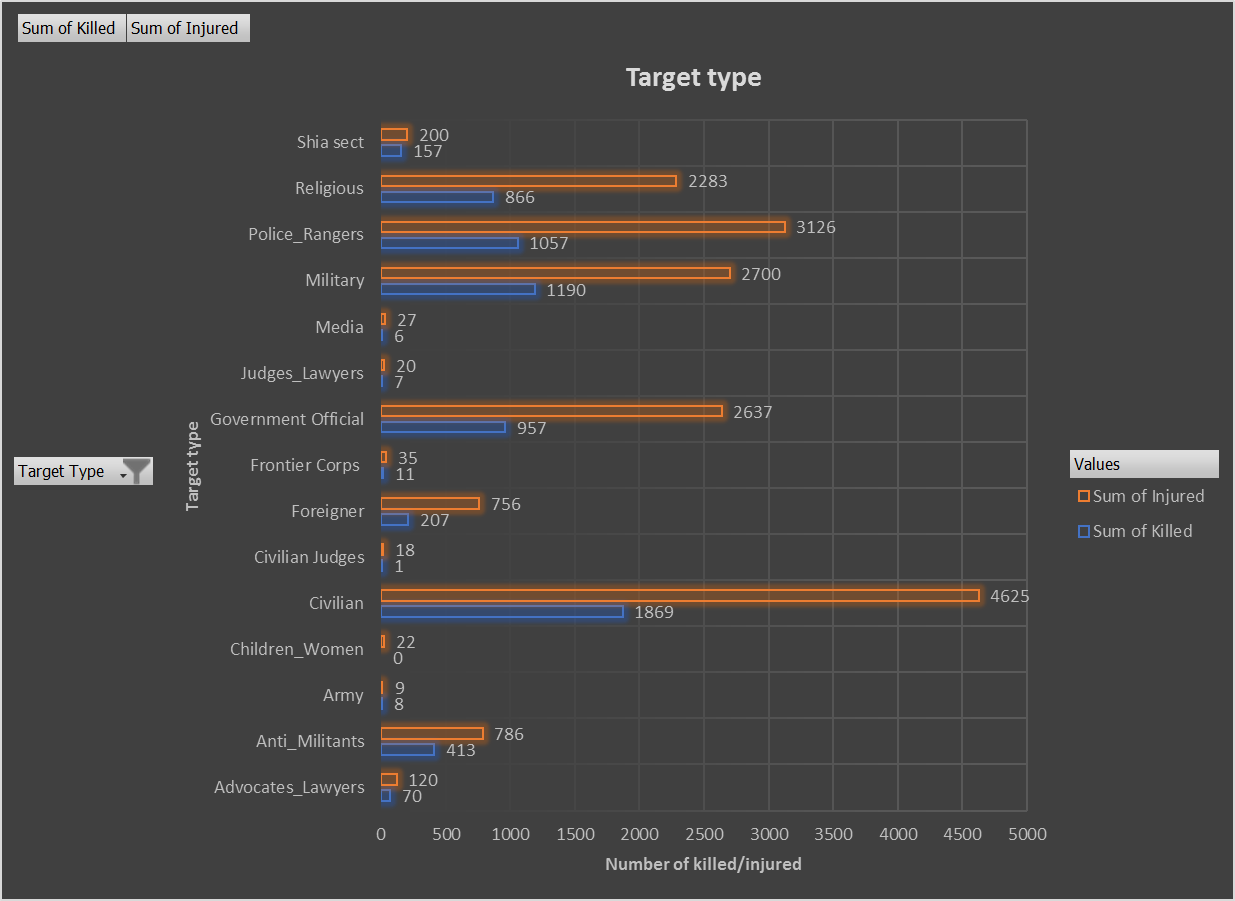 This blog post is written by Fizza Bokhari, Momina Kaleem, and Shahmeer Akhtar, students from the batch of 2020 at Lahore University of Management Sciences.